6612 North 90th Street, Omaha, Nebraska 68122

(402) 572-8905
---
Grundig Shortwave Radio
YB-400 PE
Price $239.95

Standard Manufacturer Warranty: 1 year

The legend of the famous Yacht Boy 400 lives on in this latest model the YB-400 Professional Edition. Larry Magne, Editor-in-Chief of Passport to Worldband Radio says the YB-400PE is "... the best compact shortwave portable we have tested." Coverage is complete including long wave (144 - 353 kHz), AM band to 1710 kHz and shortwave from 1711 to 30000 kHz. FM stereo is provided to the headphone jack. A thumb wheel knob on the side of the radio provides smooth single sideband (SSB) tuning. The illuminated digital display provides tuning resolution at 1 or 5 kHz on shortwave. Two bandwidths are featured. The narrow position affords maximum selectivity, or the wide position may be chosen for best audio fidelity. The keypad will quickly get you to any frequency or store up to 40 of your favorite stations in the presets. The presets may be accessed directly or you can scan through them by using the radio's second set of UP/DOWN buttons. The YB-400PE can also frequency search. The dual digital clock is visible while the radio is playing. Other refinements include: snooze and sleep buttons, lock, HI/LOW tone switch, LOCAL/DX switch, and 9/10 kHz MW scan selection. External jacks are provided to earphone (3.5 mm), antenna (3.5 mm) and 9 VDC input. The YB-400PE comes with: Grundig brand AC adapter, stereo ear plugs, wind-up antenna, Owners Manual, Grundig Shortwave Guide and vinyl carry case. Requires six AA cells (not supplied). The cabinet has a stunning titanium colored finish. 8"Wx5"Hx1.5"D. 1 Lb. 5 oz. One year limited warranty.
---
---
Sangean
A World of Listening
Professional Digital
All-Band World Receiver
Model ATS 818

Price $199.95

Features a large digital display for frequency, time, station preset channel, signal and battery strength and icons for lock, sleep, dual time, low battery; alarmed by radio or buzzer and FM stereo. Has a carry handle for easy carrying. AM external antenna jack, stereo headphone jack. You can operate the receiver using either 4 alkaline "D" size batteries or household AC (with optional AC adapter.) Rotary tuning knob has two tuning speeds for fast or slow tuning. Knob can be locked in position, preventing misoperation. Auto scan for automatic frequency selection or manual scan which also serves as fine tuning during frequency selection. BFO ON/OFF switch for reception of SSB and CW transmissions. FM stereo/mono mode selector and AM wide/narrow mode selector for optimum performance. Standby function switch to turn on the radio or buzzer at pre-programmed time, also for timer recording set. BFO control (Beat Frequency Oscillator) enables reception of SSB (Single Side Band) and CW (Morse Code) transmissions. Adjustable RF GAIN prevents overloading from stronger stations. Tone control for comfortable audio listenings. Keypad features "C" button to change incorrect input information instantly; "Enter" button to execute user's command; multi-function push buttons for direct access of time; frequency station memories and SW meter bands; standby function to turn on radio or buzzer at pre-programmed time; Freq/Meter buttons for direct access to frequency in numbers; and SW meter band in 13 sub-bands.

Five tuning methods-direct frequency tuning, auto scan, manual scan, memory recall and conventional rotary tuning; 45 memory presets - 9 presets on each FM, LW, MW and 18 presets on SW. Dual time display for UTC and local time. AM wide/narrow filter. Full coverage SW meter band from 120m to 11m. Standby function to turn on radio or buzzer at pre-programmed time. Adjustable RF GAIN prevents overloading from stronger stations. Dual conversion design.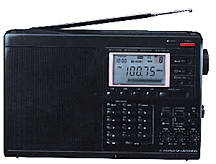 ---
---
e-mail Randy's CB

Kerosene Heaters

Kerosene Cookers
Shortwave Radios

Baygen Free Play Radio

Home